Jesus said, "The harvest is plentiful, but the laborers are few. Therefore pray earnestly to the Lord of the harvest to send out laborers into his harvest."(Luke 10.2) Our hope is to use short-term and long-term Missions to reach people for Christ by praying, sending, and going.
A Word From Our International Missionaries
We are the Gordon family (John, Aimee, Leah, and Clara) 3rd generation missionaries to Latin America. We serve as missionaries with SCEI, Sports and Cultural Exchange, Int'l., using sports, music, medicine and other innovative platforms to take the Gospel to the nations. Two years ago, God called us to take a faithful step to serve Him overseas as missionaries. Since then, He has taken us on an amazing journey of stretching and strengthening our faith, trust and true joy in Him and Him alone.
Costa Rica has been our home for the past year, where God has been preparing & equipping us to serve Him on the mission field. We graduated from The Spanish Language Institute, where God taught us so much, not just about Spanish. During our time in Costa Rica, God allowed us to build relationships in our local community with farmers, business men & women, teachers and many others who had never heard the Gospel, as well as serve alongside SCEI's short-term mission teams in Costa Rica, Panama and Nicaragua. Many lives were impacted for eternity. To Him be the glory, great things He has done!
Our heart and mission is to share and live out the truth and hope of the Gospel with the unreached in Latin America & disciple & mentor new believers. We are excited to follow where He leads next. We are sensing God leading us to Panama and are praying about moving and starting a base there for SCEI. God has shown us a huge need and hunger for the Gospel in Panama. Living in Panama would allow us to continue to lead SCEI's short-term mission outreaches throughout Latin America, follow-up with and disciple new believers and build relationships and ministries in our local community in Panama. Please join us in praying as we seek God's wisdom and direction.
To support the Gordons financially click HERE (be sure to put "Gordons" under the note section.)
Nick Koinis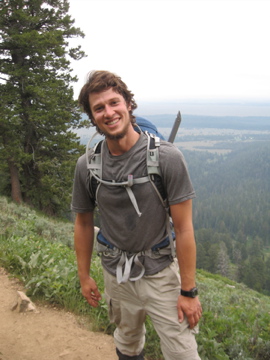 After graduating from Palm Beach Atlantic University with his BA in Cross Cultural Studies, Nick has prayed for an opportunity to take his gifts and his desire for unreached people overseas.
Truth Point Church is partnering with Nick as he joins God in pointing North Africa to the liberating truth of the gospel! To hear Nick's story, where he will be heading & how to appropriately support him, visit his Support Letter Page here.
To support Nick Koinis financially click HERE (be sure to put "Nick Koinis" under the note section.)








The Cahills
Jared and Stassja Cahill have been compelled by the love of God and worth of Jesus to become pioneer church planters among unreached peoples. Revelation 5:9 is the fuel for their passion for His name's sake among the nations: "Worthy are you to take the scroll and to open its seals, for you were slain, and by your blood you ransomed people for God from every tribe and language and people and nation..." They have a heart for places where there is no church, no gospel witness, where the name of Jesus has never even been heard and are willing to lay their lives down to get this gospel of the glory of Christ to them, because Jesus has a people for Himself among each tribe, language, people and nation. He shed His precious blood for them! Jesus is worth whatever the cost that His name might be great among the nations (Mal 1:11).

They are currently missionary interns, training at the Center for Pioneer Church Planting with To Every Tribe Ministries (www.toeverytribe.com), in order to get equipped for this work. During their two years in this training they are taking monthly trips into northern Mexico for their "on-the-field" training. This year they will be going to India for a month as part of this training, exploring opportunities among unreached peoples and training national leaders.

To find out more or to give financially please visit their website or email:

www.arkpages.com/cahillstoeverytribe
Short-Term Missions: Jaco Beach, Costa Rica

Truth Point was blessed with the opporunity to serve Calvary Chapel Jaco in pointing Costa Rica to the Truth of the Gospel through work projects, drama, face-painting, preaching, and evangelism. Our hope was that God's love for this world would be seen through our time and efforts. Below is a brief video recapping our ten days in Jaco, Costa Rica:
Truth Point was also privileged with the opportunity to partner with SCEI in a trip to Panama
TPC Missions- Panama with SCEI from Truth Point Church on Vimeo.
Truth Point Church is mobilizing its members to reach our neighbors, our community, and the world with the truth of the gospel for the glory of God. Missions is ultimately not about us but about God and His purpose for us, which is "to glorify God and enjoy Him forever." Our desire is to help the local church seamlessly integrate God's global purpose into the fabric of their lives, so that Jesus Christ is known across the street and around the world. We are committed to equip and encourage God's people to embrace God's purpose of unveiling His glory by the spreading of the gospel from Jerusalem(city), to Judea(state), to Samaria(country), and to the ends of the earth (see Acts 1:8).
"Sing to the LORD a new song; sing to the LORD, all the earth!" Psalm 96.1